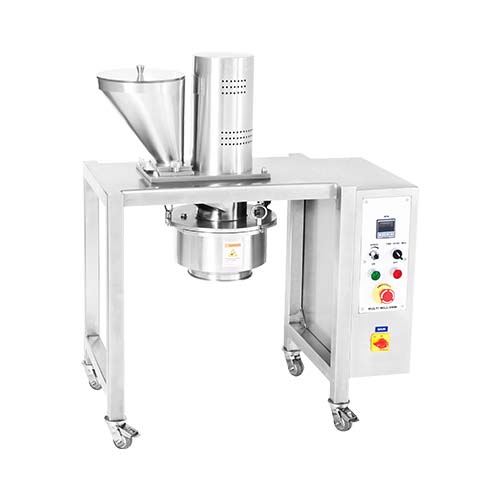 Salient Features:
Compact Design – Ideal for smaller Lab Areas.
Low maintenance, easy-clean design.
Machine is Designed for continuous operation.
Cylindrical Screen for higher output. 
No metal-to-metal contact.
Variable speed with RPM display.
Simple to operate.
Flexible feeding Facility.
Provide the option of inline milling with Rapid Mixer, Blender & Sifter machines.
All the product contact parts are made from Stainless steel 316.
Non-contact parts and the outer surface are made from stainless steel 304.
Achieve Uniform particle size quickly.
Low Noise operation with low Heat and Dust.
Easily changeable screens.
Easy Clean Design.
Castors for mobility.
Sturdy GMP construction.
Multiple Application:
Dry & Raw Material Milling & Grinding
Dry Granulation sizing.
Tablet & Capsule reclaim.
Dry Mixing Dispersion.
Deagglomeration.
Optional Features:
IQ, OQ Documentation & Test Certificates can provide on demand
Different Screens (1 mm dia to 8 mm Holes.)
Explosion-proof Construction. 
Technical Specifications:
MODEL

SMM-M

Output capacity**

100 g to 50 kg/hr

Charging hopper capacity**

2.5 kg. (5 L)

Rotor assembly dia

150 mm dia.

Motor

1 hp / 3 phase / 2850 rpm

Noise Level

< 75 db

Supply voltage

110v / 220v, 1 ph, or 220 / 415, 3 ph, 50/60 hz.

Rotor speed range

Min 700 rpm & max 2850 rpm Variable

Beaters

12 knife blades & 2 scraper blades.

Material Of construction                   

Contact part – SS 316 L non-contact part – SS 304

Surface finish

Inside contact part – mirror finish – ra 0.10 micron outside – matt finish – ra 150 grit (1.06 micron)

O rings, seals & gaskets

As per GMP – Silicone food grade type

SS 316 perforated screen sizes

[holes dia in mm]at extra cost

[a] 0.5, 1.0, 1.5 [b] 2, 3, 4, 5, 6 [c] 7,8

 

AC Drive – Feed Screw

Make - Schneider

RPM and AMP Meters

Digital Type – Multispan make

All Electrical switchgears

Make – Schneider & Teknic

Safety Features

Limit switch provided at discharge chute.

Net weight (approximately)

77 Kg

Gross Weight

102 kg

Overall dimensions (mm)

830 x 440 x 1080
**Output/Capacity depending upon the product & the reduction required in size.
Utilities:
| | |
| --- | --- |
| Electric Supply | 110v / 220v, 1 ph, or 220 / 415, 3 ph, 50/60 hz. |