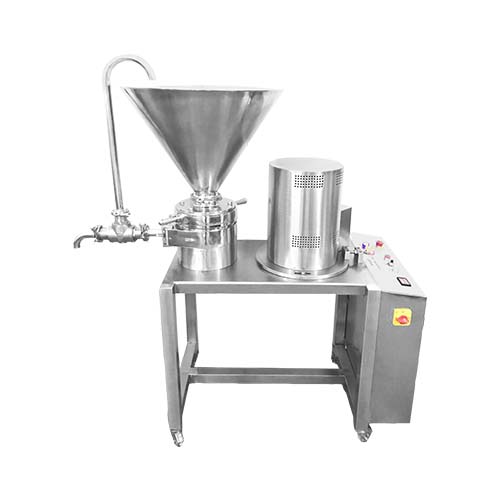 Colloid Mill is an ideal and perfect homogenizer-cum-emulsifier. It finds its application in various processes like grinding, homogenizing, emulsifying, dispersing, mixing, extracting etc., catering to the needs of several industries, such as
SPECIAL FEATURES
Simple construction permits the ease of cleaning. Normally, flushing of water or suitable solvent cleans the mill. If required. The operating parts can be easily dismantled for through cleaning or sterilization.
Feed Hopper, recirculating pipe and mouth hopper are supplied as standard with RIMEK Colloid Mill.
This Machine is recommended for processing materials, which generate a lot of heat during milling operation and are sensitive to heat.
All contact parts of the mill are made of stainless steel.
Optional Available
Drive through ACVFD.
Special Discharge chute for Cream, Pest etc.
FLP Motor & Starter
Water Jacketed type (SCLW)
Technical Specifications
Model

SCM

Output Ltr. / hr. 

10 to 150

Hopper Capacity

3 Ltr.

Achievable Micron Size

Micron- 5 to 10

Motor

1 hp

Speed

2800 RPM

Electric Supply available

220v, 415v, 480v, 3 Phase, 50/60 Hz

Amp Capacity

220v, 3 phase – 3 Amp.

415v, 3 Phase – 1.5 Amp.

Teeth of Rotor & better Result.

70 nos.

Finished Quality type

Inside – 240 grit & outside - 150 grit

MOC contact parts.

SS 316 L

Dimensions - mm [L x B x H]

458 x 400 x 750

Net Weight

42 kg