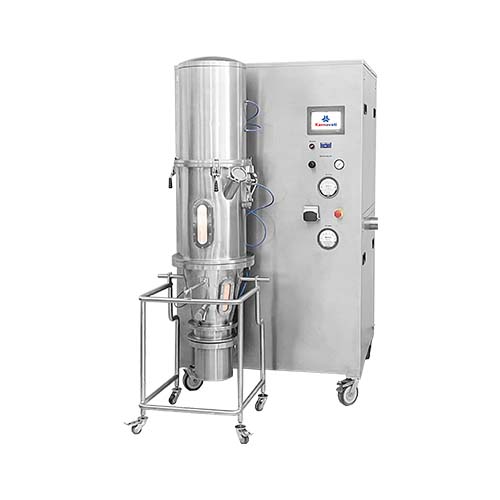 The Fluid Bed Processor GMP Model offers an effective and efficient method for drying, granulating & coating. It is invented keeping in mind the latest GMP norms with all contact parts AISI 316 L Quality. By using modular construction and simplified design, we provide flexible installation. The Machine is a vertical type, Electrical controls Auto Mode, Arrangement for spraying an active ingredient on to the carrier bed for top or Bottom spraying, Explosion proof and suitable for efficient accurate and uniform drying wet granulated pharmaceutical solid powder at a lower temperature.
​Safety Features:
Explosion vent is provided with a rupture disk.
Safe Positive Earthing Device ensures the complete elimination of static charge.
Product Bowl interlocking mechanism.
Automatic Temperature & controls, Process cycle controls.
Air pressure safety switch installed to ensure the pressure is within the limit.
Overload relay Protection and Emergency stop button.
Salient Features:
High Precision and effective drying technology.
Single Pot Technology for drying, granulating, & Coating.
Automatic pneumatically operated blowback filter cleaning system.
All contact parts are S.S. 316 L & Non-contact parts SS 304 as per GMP Standard.
Easy to install, operate, clean, convenient & user-friendly.
Inbuilt design with Inlet hot air and exhaust air blower.
Uniform Drying at low temperature.
Lamp & Sight Glass for process visualization.
Perforated air distribution plates 65% open along with Dutch weave mesh.
Sampling Port facilitates withdrawal of any number of samples for In-process Quality Control tests, without interrupting the fluidization process.   
Inlet / Exhaust blower unit & Filtration unit can be placed in remote areas - optional
Pneumatically operated inflatable food grade seals provided for filter bag and product container sealing with pressure switches & FRL to ensure fail-safe operation.
Minimum handling more Hygienic.
Easy in Validation.
Optional Available:
Documentation (IQ, OQ, FAT)
Additional Product container.
Wurster Coating system (Bottom spray)
Double scan AHU with Dehumidifier. (Outer Unit)
Exhaust Filter with Housing
Dry or Wet Scrubber at Exhaust.
WIP system.
FLP motor
FLP motor for Solution pump
Solid Flow monitor (Broken bag detector).
Humidity Sensor
Separate Power Panel Box for Non-FLP Area.
Ducting
Technical Specifications:
Model

SFBP – 3

SFBP – 5

SFBP – 10

Product Container

Container Volume

7 Liters – 3 kg

10 Liters – 5 kg

20 Liters – 10 kg

Container Trolley

-

-

-

Batch Capacity (0.5 bd)

2 kg

3.5 kg

7 kg

Air Flow

Free Air Flow for inlet air (m³/hrs) ±10% approx.

300 m³/hour

340 m³/hour

516 m³/hour

Blower Motor Capacity

Blower Motor - hp

5 hp

5 hp

7.5 hp

Electrical Heating

Drying Temp in ° C

35° - Max 80° C

35° - Max 80° C

35° - Max 80° C

Heater

6 kW

9 kW

9 kW

Compressed Filtered Air

Consumption

45 CMH

45 CMH

45 CMH

Maximum Pressure

6 bar

6 bar

6 bar

Spray Pump

Motor

0.125 hp

0.125 hp

0.125 hp

 

Output – Max.

100 ml/min

100 ml/min

100 ml/min

Silicone Tubing

4 mm ID

4 mm ID

4 mm ID

Spray Gun

Top spray

Orifice 0.8

Orifice 0.8

Orifice 0.8

Bottom spray

Orifice 0.5

Orifice 0.5

Orifice 0.5

Electrical

Power supply - Voltage

415 or 220 V, 50 / 60Hz.

415 or 220 V, 50 / 60Hz.

415 or 220 V, 50 / 60Hz.

Total load

7.5 kVA

8.5 kVA

12 kVA

Dimensions & Weight

 

Dimensions L x W x H mm

1605 x 995 x 1860

1650 x 1005 x 1920

1745 x 1120 x 1890

Net weight

325 kg

330 kg

495 kg

Gross Weight approx.

620 kg

630 kg

670 kg
Utilities:
Electrical Supply

415/220V AC, 3 phase, 50/60 Hz. (as per customers request)

Compressed Air

Flow pressure – 6 bar max.

Quality – oil, water & dust free

Max. Consumption – 45 CMH