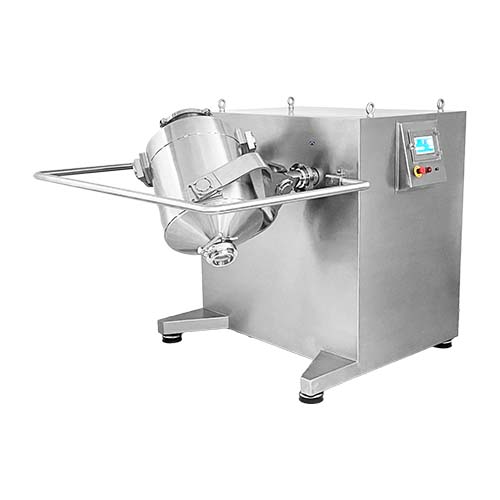 Rimek 3D Shaker Mixer/blender provides a time-efficient and cost-effective method for powder and liquid mixing/blending. The solid rotary mechanism produces a uniform blend of ingredients for a wide range of pharmaceutical drugs & different materials, such as powders and fluids. It is used in any industry and application, especially in Pilot scale and analytics.  It's used for homogeneous mixing of powdery substances with different specific weights and particles size. Producing dry to wet & wet to wet mixers is also possible. The production process is hygienic and dust-free because the product is mixed in an independent container. The exceptional efficiency of the 3D-Shaker Mixer turns in a three-dimensional motion for gentle constant and reproducible mixing results and the product is subjected to an ever-changing, rhythmically pulsing motion. 
The result meets the highest requirement and is achieved in a minimum of time. 
The mixers' housing is made of steel. Safety Guard connected to the safety switch ensures no harm can be done while the mixer is running.
Salient Features
Sturdy GMP construction, Compact Design – Ideal for smaller Lab Areas.
Low maintenance, easy-clean design.
Machine is Designed for continuous operation.
Blending extremely heavy powders with very light ones
Gently blending fragile granules without crumbling
Successfully mixing particles of different diameter
Powder mixing is performed in a closed container which ensures that even toxic materials can be blended successfully
The closed container ensures that the powder blending is dust free
Simple to operate & Easy Clean Design.
All the product contact parts are made from Stainless steel 316.
Non-contact parts and the outer surface are of stainless steel 304.
Easy changeable Containers.
Technical Specification 
Model

S3D-1

Complies

cGMP

Capacity of Supplied

(Interchangeable Container)

Working Capacity-50%

Liters (BD-1 g/cm3) Gross

kg (BD-0.6 g/cm3) Gross

1.8 Ltr.

0.8 kg

1.2 Ltr. - Interchangeable

0.5 kg

0.5 Ltr. - Interchangeable

0.2 kg

0.2 Ltr. - Interchangeable

0.1 kg

Speed range

Variable 2-26 rpm

Motor

0.25 hp

Material of Construction

Product contact parts – SS 316L

Finish of Product contact parts is ≤ 0.4 µm

Product contact parts – Electro polished

Non-contact parts – SS 304

Polymers – food grade PTFE

Approx. Overall Dimensions

715 L x 515 B x 495 h (mm)

Net Weight

52 kg
Safety Features
| | |
| --- | --- |
| Safety Guard for moving parts | Provided safety guard with safety switch. |
| All Electrical Instruments | Safeguarded in SS304 box. |
| Anti-vibration | Anti-vibration Pad for no vibration at max. rpm |
| Noise level | ≤ 75 dBA |
| Emergency Stop Button | Designed to stop all movement of machines immediately |
| Earthing connection | For static charge generated during operation & for Electrical panel. |
Utility
| | |
| --- | --- |
| Supply Voltage | 220v  or 110 Single Phase |
Required installation environment
| | |
| --- | --- |
| Ambient temperature in operation | +10°C up to +30°C |
| Storage and transport temperature | -10°C up to +55°C |
| Relative humidity | 25-80% no condensation |