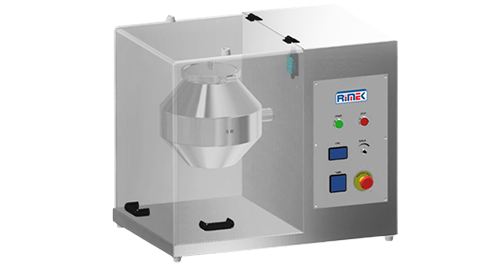 Double Cone Blender operates on the free flow principle. This unit is used for dry blending, rapid mixing of all types of free-flowing powder and granules, mixing, lubrication and homogenizing of the powder and granules. It consists of a cone-shaped body, a circular central portion and top and bottom conical. The uniform, multidimensional arrangement of the Blender walls ensures good blending and mixing. The vessel is manufactured from stainless steel.
Salient Features
All contact parts are SS 316 L as per cGMP Standard.
Compact design.
Good solution for R&D and small batch production
Corrosion-resistant, medical & food grade contact parts.
Easy to install, operate, clean, convenient & user-friendly.
Optional Available
Interchangeable Vessel
HMI Control.
21 CFR Part 11 / SCADA control.
Technical Specifications
Description

Specification

MOC

All contact parts are SS 316 & non-contact parts are SS 304

Surface Finish

Product contact part, 240 grit (0.5 u, 25 Ra) - Mirror finish

Non – contact part,180 grit (0.64 u, 25 Ra) - Matt finish

Main Body

Stainless steel 304, all main drive-related assemblies are covered in the main structure.

Main drive Mechanism

Main drive mechanism through motor coupled with worm reduction gearbox direct drive mechanism.

Panel Board

 

Inbuilt Panel board & easy operability. A Panel consisting Emergency push button.